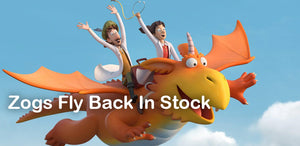 Zogs Fly Back In Stock
After significant delays to container shipments from Aurora World, just this week, we procured a new batch of Zog soft toys with over 32 now in stock as of 26th April. 
Check out Zog before he flies away.
If you haven't heard if Zog before, then it's time to learn what he's all about. 
The friendly orange dragon is part of Julia Donaldson's very popular Aurora range of plush toys based on her popular book. 
There is also an animated film to compliment the book which has gained in popularity over the last few years. 
At Character Toy Store, we are one of the UK's main suppliers of Julia Donaldson toy with every toy range from her book in stock. 
From The Gruffalo to The Snail and the Whale, and The Highway Rat, we have something for everyone. We are sure that you will discover the toy to bring your favourite book to life. 
Discover more about author Julia Donaldson and illustrator Axel Scheffler
---