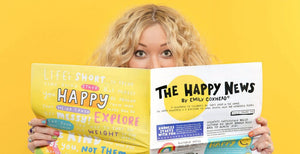 The Happy News by Emily Coxhead
They say to surround yourself with positive people. Well, Emily Coxhead went one step further and in December 2015, launched her first Happy Newspaper.
Full of positive quotes and feel-good stories, she has gained an avid following on her social media channels with over 146k Instagram followers as of May 2020. You can follow Emily on Instagram here.
It was only when Emily realised what effect the news and media was having on her when she was going through a hard time herself, that she had a eureka moment, and decided to spread some positivity in the world. That's exactly what she did when she launched her Happy News. From there, things just grew and now she has a range of stationery licensed to Blueprint Collections.
We stock Happy News stationery and gifts in our online shop. Shop the Happy Range now.
---