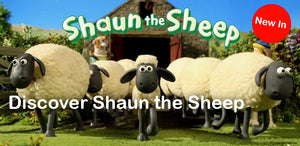 Shaun the Sheep Soft Toy Collection
Good news for all Shaun the Sheep aficionados. 
Character Toy Store have expanded the range of the popular Aardman collection this week to include the new smaller 8 inch version, the larger 12 inch toy, as well as the key ring - perfect for clipping onto your keys and bags. 
With wide 3D eyes, a fluffy white coat and super soft fleece legs, he makes an excellent gift idea for fans of the animated series. 


Who is Shaun the Sheep?
Based on a spin off from the animated classic Wallace and Grommit, Shaun the Sheep first appeared in A Close Shave back in 1995.  Since then he has appeared in Wallace and Gromit's Cracking Contraptions series before starring in 170 episodes spanning 6 seasons. Season 6 is now available on Netflix. 
As the leader of his flock, he does an all to easy job of finding mischief and trouble upon the farm. Equally, he can get him and his friends Timmy, Bitzer and Shirley out of trouble with luck on their side. 


The no-dialogue clay stop-motion animation usually involves the protagonist drawing his plans on a blackboard, meaning the series doesn't have language barriers and appeals across cultures.
The show was a massive hit and even spawned its own spin-off series called Timmy Time, which follows the escapades of Shaun's smaller cousin Timmy. Aimed at younger viewers, this show also proved highly successful for Nick Park's Aardman Studios, spanning several seasons on BBC children's television. 
 
Shaun the Sheep Soft Toys?
If you're looking to buy the collection, look no further. Character Toy Store's new range includes two different sizes along with the bag clip. We offer fast delivery worldwide to USA and Asia and free UK delivery when you spend £25 or more. 
---