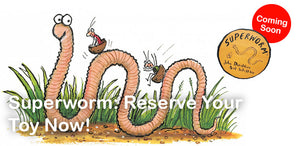 Reserve your Superworm Soft Toy Now

Superworm is coming to our screens Christmas 2021
Julia Donaldson's new addition to her soft toy range is the brand new and exciting Superworm. 
The quick thinking protagonist is gaining popularity as is the new Magic Light animation due to be hitting UK the BBC and iPlayer this Christmas 2021.
A Familiar Voice Cast
The world renowned author of the Gruffalo first published Superworm back in 2016 and the storybook has gone on to be one of the more popular titles in her line up.
The new film will be voiced by some very famous actors including The Crown's Matt Stone and Olivia Coleman and according to Televisual Olivia said
"This is such a lovely project to be involved with. When reading the script, and imagining all those goings on at the end of the garden, I could really get a feel for the pure fun and joy that the film will bring. I've always loved these charming productions at Christmas and I'm delighted to be voicing the narrator."
Join our Mailing List to Reserve Your Superworm Toy
Join our mailing list (scroll to the footer) to be notified when we get our first stock of Superworm soft toy. Did you know you can 10% off your first order when you use code Seguno10 at the checkout!
---
1 comment