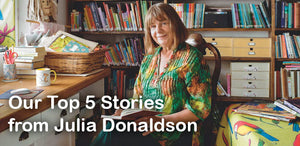 Julia Donaldson Top 5 Story Books
These are our top 5 favourite Julia Donaldson book titles voted staff at Character Toy Store
---
1. The Gruffalo
Probably one of her most famous stories, is that of the Gruffalo. The story of the Mouse, the bravest of protagonists and the huge hideous Gruffalo which takes place in the deep dark wood. The story is filled with excitement,  suspense and thrilling adventure, brought to life through stunning illustrations from Axel Scheffler.
Buy Gruffalo Soft Toys
---
2. Room on the Broom
The story follows the adventures of a friendly witch and her cat as she flies across stormy lands. Picking up animals along their way who want to ride with her on her Broomstick, the broomstick eventually snaps in two. The animals must think on their feet and band together to overcome an evil fire breathing dragon.  The animals team up to scare away the dragon before reuniting with the witch. A magic spell is cast, much to everyone's amazement as they all get set for a truly magnificent journey.
Buy Room on the Broom Toys
---
3. Zog
A more recent addition to Julia Donaldson's line up is the fantastic tale of the adventures of Zog. The friendly orange dragon must prove himself to his teacher and classmates as he graduates through dragon school that he is a worthy adversary! 
---
4. Stickman
Stickman lIves in his family tree with his stick lady love and his stick children three. Join Stickman as he wanders far from home, further  and further from his tree house. Eventually relying on an old friend to help him on his way, a whole year goes by before he's reunited with his family. 
As usual, the partnership between Donaldson and Scheffler shines through with beautiful illustrations.
5. The Snail and the Whale
The captivating story of the Snail and the Whale revolves around the adventures of a tiny snail who longs for a life of adventure. One day he is offered a lift on the fin of a humpback whale and they together sail the seas, passing volcanoes and icebergs and stormy seas. When the whale becomes beached in a bay, Snail rushes for help, and with his friends they save the day.
As one of our favourite books from Julia Donaldson, the story resonates one many levels with a message that 'no matter your size, you can still make a difference to somebody's life'
Watch the Snail and the Whale on iPlayer now
---
Other titles from Julia Donaldson include: Detective Dog, A Squash and a Squeeze, Monkey Puzzle, The Smartest Giant in Town as well as many more.
---
Who is Julia Donaldson?
With over 17 million copies of her flagship franchise the Gruffalo sold to date, Julia Donaldson is one of the UK's most prolific and favourite authors among younger audiences.
Her successful career has brought varied and beautifully illustrated works - through her long lasting partnership with Axel Scheffler.
As an MBE for Services to Literature, her works include Stickman, Room on the Broom,  Snail and the Whale as well as more recently - The Highway Rat and Zog - Since being published, many of her stories have been turned into superb animated short films by Magic Light Studios and voiced by famous voices from the likes of David Tennant and Sir Lenny Henry to Tracey Ullman and James Cordon.
---
View all Julia Donaldson Toys
---