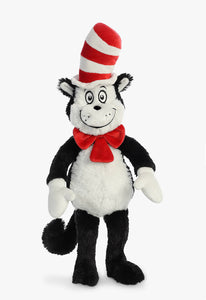 Cat In The Hat Plush Soft Toy
On Wednesday the 5th December, we got really excited about new stock arriving in. 
Dr Seuss has been popular in our household, especially The Cat In the Hat. 
COnrad and Sally meet the anthropomorphic humanoid Cat in a Hat (Mike Myers) in a red and white striped hat and a dickie bow tie. Mayhem is unleashed when Conrad unlocks the Cats locked chest unveiling a portal to his world where nothing is quite what it seems. 
Click here to shop the Cat in the Hat plush soft toy >
---